Florida Department of Transportation – District One | 4192434 – US 27 at SR 60
US 27 (SR 25) widening from south of SR 60 to north of Central Avenue.
SR 60 reconstruction from west Central Avenue to Dr. Martin Luther King Jr. Blvd. The scope of this project is to increase capacity on US 27 and SR 60. US 27 will be widened from a four-lane roadway to a six-lane roadway section.
SR 60 will be widened from a four-lane to a six-lane roadway. The improvements will consist of 11-foot lanes and seven-foot bicycle lanes on the outside. Curb & gutter will be constructed along both the inside and outside edges of pavement. A closed drainage system and six-foot sidewalks will be provided in both directions. The existing SR 60 interchange will be reconstructed to a Single Point Urban Interchange (SPUI). A new bridge will be constructed over US 27. A proposed urban frontage road will be constructed in the southwest quadrant of the interchange to aid the access management to local businesses. Acquisition of right of way will be required for the frontage road on the southwest side of SR 60 as well along both sides of SR 60 east of the existing interchange.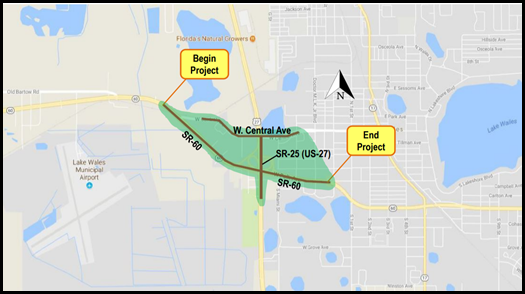 IAA was contracted to acquire 28 parcels impacted by this project. The contract responsibilities included negotiation, relocation, closing, suit preparation and creation of project tracking reports. IAA dedicated staff of right of way professionals were able to meet all deadlines. Within the project timeframe, 28 appraisals were reviewed and negotiated followed by all suit submittals. The project consisted of two relocations (commercial and residential) properties. The experienced relocation agents worked with the respective parties to provide advisory assistance and ensure those displaced were treated fairly and adequately.